Jim Bankowski and Friends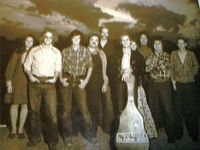 Jim Bankowski arrived in Cincinnati wearing some patched bib overalls that were more patches than overalls. He had a beat up guitar case that held an old Martin D-18 that he played in odd tunings. Jim sang in a distinctive baritone voice during an era when everyone was trying to be a tenor. The wonderful songs he wrote and sang spoke about his love for Jesus and for God the Father.
Jim arrived on a street in Norwood Ohio from out of nowhere. Joanne Slayback, her daughters and I picked him up and headed back to the Slayback's home. Jim filled up on Joanne's homemade vegetable soup. This was providencial since Jim was a vegetarian. Later that evening he sang and played at our little coffeehouse in the Episcopal church basement. Afterward we took Jim to the street where we found him and he disappeared into the night.
Jim's family was from Cincinnati. He never spoke much about them except to say that he was raised in the Catholic Church. Jim moved to a room at the Friars Club in Clifton. I think he was working at some sort of menial job to pay the rent. All he ate was peanut butter and jelly, which I guess is good vegetarian food.
Jim is a guy loves the Lord, writes and sings great songs, a guy that everyone who knew him loved him. Yet some thugs beat him nearly to death and robbed him for the ever present Martin guitar that he carried around. Jim's head trauma was so severe that he couldn't talk and he lost his ability to play guitar. It took him over a year to recover. Someone gave him a cheap Yamaha guitar to play. Afterwards whenever he played in public he borrowed someone's Martin.
After Jim recovered he decided to make a record. That is an LP album. For anyone who doesn't remember, an album is much like a big black CD, only it does not have digital data on it and gets easily scratched. He recruited the members of the church that many of us attended to provide his background music. Kent Odor, Sharon Wilson and I sang the backup vocals that I had arranged. That was a very cool couple of days.
My wife and I left that Church and moved to Middletown Ohio. I hadn't heard much from Jim until I received a phone call at my home in Middletown. Jim's brother-in-law and sister owned a popular restaurant in town and Jim said that he was going to be working there for the summer. He had enrolled in Oral Roberts University and wanted to visit with us during his time in town. There were some nights that he would crash at our house. One night he showed us slides of a mission trip that he had made to China, India and the Philippines. He had taken that old Yamaha guitar with him on him mission trip and gave it to some boy in the Philippines that he befriended.
The last time I saw him was at a Jesus House Reunion many years ago. Jim was one of the most dedicated believers that I had ever met. I know that God continues to bless him.
(look closely at the picture. There is a sharp-looking, clean shaven stud standing to Jim's left. Guess who that is?)