In response to
Terry Fishers
recent post on
The Jesus House Blog
regarding his favorite performers, I have decided to write on the same subject and offer my ten personal favorite singer/songwriters that I recall from those sweet long ago days.
I'll preface this by saying there are some folks that I never heard perform at the Jesus House. And although some of them are near and dear,
I've limited my list to those my 57 year old memory can recall as performers.
For instance
Rick Marksberry
and
Andy Danzl
were folks that I knew from the Jesus House and got to know even better at Fellowship Christian Church. I don't believe I saw either of them play music at the Jesus House. I consider both close friends and my brothers in Christ.
Just about everyone I know from the Jesus House comments on
Wiloughby Wilson
as being a great band. Unfortunately I did not have the good fortune to see or hear Wiloughby Wilson perform. I was living in Middletown Ohio and occupied with business and family during that era.
I've since met
Jim Wilson
and have great admiration for him and and
that excellent guitarist and David Gilmour impersonator Ric Fields.
I enjoy the music they play as
The Perculators.
I also have no recollection of hearing
Prodigal
play at the Jesus House. As I've mentioned I knew
Ric Fields
and met a dark haired
Dave Workman
in subsequent years before he became an old, gray pastor.
There are probably some others that I have forgotten over the years. I do apologize.
With that said, here is my list of favorites. All of which I have seen many times sing and play their songs at The Jesus House.
1.
Mike Wilshire
was by far my favorite performer. He was and still is an extremely talented guitarist and vocalist. Adrian Belew writes about Mike on his webpage and says that Mike Wilshire could have had a wonderful career in music, except he chose to be a pastor.
Mike wrote the most beautiful and meaningful songs. He performed them on his old Martin double–ought guitar and sang them in the loveliest style.
Beyond talent, Mike was a deeply committed Christian and the most important thing by far to him was to share his faith and love of The Lord. It was a special treat to hear Mike sing and harmonize with his friend
Blaine Shepherd
. The first time I heard them I couldn't imagine how so much music could come out of two guys just singing and playing guitar.
I learned most of his songs and made them my own. Without know it, he taught me a lot about playing finger style guitar.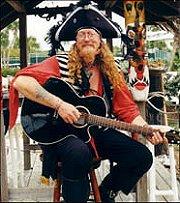 2. Randy Matthews
is someone I first say when he was singing at Spiritual Revolution Day in 1971. Later I met Randy at the Jesus House. This was during the times when he would sing his songs and preach of God's Love. (Long before his pirate days. 'ar, 'ar, 'ar.)
Randy's father wrote
the Gospel song
Peace In The Valley
, which became a hit for Elvis. Randy followed in his father's footsteps by writing a series of songs about The Lord. Since this all happened in the early days of the Jesus Movement, Randy was one of the originators of what came to be known as Jesus Music. I vividly recall Randy singing a song about the crucifixion and pounding on his Martin D-28 when it came to the part about driving the nails in Jesus' hands.
3. Rising Hope
was my very favorite Christian music group. I have written about them before. At the time they were comprised of
Michael and Susan Goldberg and Ross Johnson.
Later on they added
Chris Adams
as their bass player. They were the Peter, Paul and Mary of Jesus music. Their vocal blend was exquisite. Their songs could be moving or humorous. Their performance which usually included a multi-projector slide show with a voice-over by
Mikal Keifer
set them apart.
Changes happened as change usually does. Michael and Susan went their separate ways and both still hold Jesus above all. Ross Johnson married the lovely Lyndell from Australia and his family still celebrates Gods Love.
4.
I met
Jim Bankowski
one evening when I was visiting with
Whitey and Joanna Slayback.
Joanna picked him up and brought him to her home to visit and have some homemade vegetable soup. Jim was the scrawniest fellow I have ever seen. He was dressed in a T-shirt and patched bib overalls that were more patches than overalls. Jim brought his beat-up old Martin dreadnaught guitar with him and sang some songs he had written.
He had a deep baritone voice, which was not the usual style of that era. However it worked for him. He also used strange tunings that seemed to be different for each song. He too shared his love of The Lord with everyone he met and was the humblest fellow I've ever met.
5. Rich Mullins
is a guy that I met once or twice at the Jesus House and at some other venues in the Cincinnati area. I never really got to know him. As a lot of other musicians, Rich seemed kind of shy and distant when he wasn't singing and playing.
The first time I saw him play, he was seated before the big green Jesus House upright piano. That piano was a wreck. It was missing ivories from the keys and it was out-of-tune. However Rich made that piano sing in a style that was reminiscent of Elton John. He sang with the most amazing voice. I sat there thinking I can't compare this guy to Elton John, since Rich is so much better. Rich was blessed with amazing talent and insight. I'm glad that God used him and shared his music with many, many others.
6. Adams-Fishy-Odor
. When
Chris Adams
was not playing bass with Rising Hope, he sang in a band that consisted of long time Jesus House director
Terry Fisher
and long time Jesus House affiliate
Kent Odor.
It is a good thing to make music with your friends and that is what those guys did.
Terry wrote some very moving Christian songs as well as some extremely funny songs. Kent still has that wonderful and powerful voice. The brother could really belt out a song. Chris is still one of the best bass players around, bar none. Whenever those guys performed it was always a good time.
7. Sharon Wilson and Sherri Fayard
always stood out as having some of the most beautiful singing voices that I have ever heard. Sharon took some classical guitar lessons and this style showed up in her playing.
Both girls wrote some of the most beautiful and meaningful songs, that were quite often taken straight from God's Word. I was always so happy to visit the Jesus House and learn that they would be singing. I would just close my eyes and take in their beautiful voices.
8. Randy Moody
was Cincinnati's comic relief of the Jesus Movement. Randy had a million stories and it was always great fun to sit down and hear about Nate the Snake, Randy's tales of being a hospital orderly or stories of Randy's fellow employees at Swallens. Randy came up with some beautiful and well written songs. He also came up with some songs that were just a hoot.
9. Deny Brigance
had been a regular performer at the Blind Lemon in Clifton. He was in a rock band called Monk and then he became a Christian.
Being a natural born singer/song writer/Deny turned his talent to writing Christian music. He had a high tenor voice that was extremely powerful. He also had a great ability to organize other musicians in an effort to make the songs he wrote come out the way he heard them in his head. I always loved to hear Deny whenever he was at the Jesus House.
10. Bob Clark
sounded like Neil Young meets America (the band). Bob had that sort of pinched vocal quality that stood out. And the guy could write a wonderful tune. I don't think he performed often at the Jesus House, but when he did it was a joy to hear him sing.