Do you know a nice Jewish Cat Lady?
Then here's the perfect gift of the holidays that she can use to commemorate the oppressive Syrian rule, the torture of Chanah's sons and of course the Maccabees, all while celebrating the love she has for her 80 plus cats.
Luke chapter 6, verse 38
says; "
Give, and it will be given to you. A good measure, pressed down, shaken together and running over, will be poured into your lap. For with the measure you use, it will be measured to you."Whoo-hoo!
Now you can be reminded of this as you chew on squishy, sugary bubble gum.
Ain't life grand!
What child would not be excited to spend their play time with the delightful
Ten Plagues of Egypt Finger Puppets
.
After all what is more fun than a plague?

Pass the Word of God with minty-fresh breath by using
Testamints.
Sinners will love you for it
.
I realize that Jesus took bread and said, "This is my body, broken for you. Do this in remembrance of me." I'm not sure that he had
baby Jesus cookies
in mind.
I mean really!
Could you eat baby Jesus?

Chocolate and Jesus
! I love 'em both. Just not together in one carb-packed serving. The product name is well..it's just not right!
But that's just my opinion.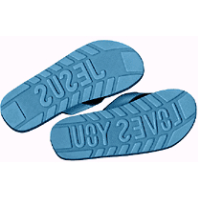 Next time you go to the beach, display your faith with
Jesus Loves You flip-flops.
Folks will say,
"There goes that crazy Christian."
Don't let your boy grow up with a role model like the GI Joe Action figure. Set him straight with the new
Jesus Action figure.
My Lord and Savior can whoop GI Joe with both of His hands tied behind His back
.
You gotta' start the girls early on becoming good church ladies and taking care of themselves.
And here is the perfect product to
"redeem your reputation"
as it says on the box. Get your daughter some
Lookin' Good for Jesus make-up and bubble bath.
Tackle sin. Coordinate a good defense for your faith. Run with it and pass it on. You can with you new
Jesus is my Coach
football figures! Rah-rah, sis-boom-bah!
Why settle for reading a comic book...excuse me...graphic novel about the Miracles of Jesus in only 2 dimensions, when you can read about the
Miracles of Jesus in 3 dimensions with the Miracles of Jesus with 3 D GLASSES!
Next time you have guests over for dinner, delight them with
Grapes of Galilee Wine
. Made from grapes grown along the Jordan River and gently aged for two weeks before being packaged in a plastic bag and put into a box. Remember,
"He has trampled out the vintage where the grapes of wrath are stored."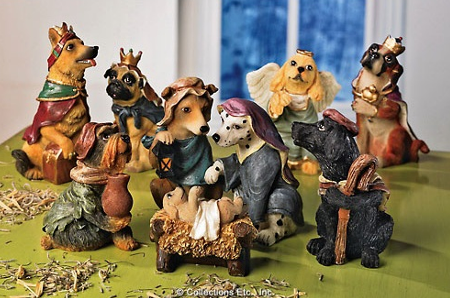 I know, a
mutt nativity set
!
Nothing says Away in a manger than these delightful mangy critters.
Ah,
Look, puppy Jesus wants His belly rubbed.